---
---
Thursday and Friday, May, 5:00PM to 9:00PM
Saturday and sunday, May, 11AM to 9:00 PM
Are you attending Cuisine ta ville with your kids?
Want to spend some quality time with them, or attend an activity while leaving them in good hands? The KIDS' CORNER is for you!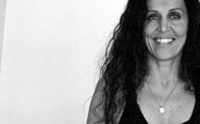 Laura Bari has been a professor of childhood education at Cégep du Vieux Montréal for 25 years.
She is running the KIDS' CORNER with her students and is concocting some memorable moments with games and activities that encourage sharing! The Centre de la Petite Enfance Duluth is lending games, books, disguises and other materials, to make this space lively and stimulating!
Passionate about the arts and about issues related to personal expression, Laura chose to use cinema and education to combine art, the construction of identity and mental health in her contemporary, intercultural approach. Her aim is to build on the innate creativity of human beings and their interactions with their surroundings. This calling has brought her to work in a wide variety of fields.
Laura has made three feature films—Antoine (2009), Ariel (2013), and Las Primas (2017)—in which she takes a poetic look at the reality of survivors of different ages and origins and how they are able to find resilience through creation. She has participated in writing and producing children's programming (Cornemuse and Toc-toc-toc, broadcast daily in Québec for the past 15 years). As a multidisciplinary artist, she initiates and organizes, on a volunteer basis, collective exhibitions of children's art, as well as installations—ephemeral performances, in urban and rural settings—with young participants.
A BIG THANK-YOU TO LAURA AND HER STUDENTS, AND TO THE C.P.E. DULUTH!