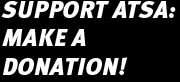 Spoil us with your generosity! In return, we will do all we can to change the world!

ATSA is registered as a charitable organization with the Canada Revenue Agency and will provide you with a receipt for income tax purposes for any donation of $20 or more.

Performance of ESSEN by artist Victoria Stanton
État d'Urgence 2006 - photo : Martin Savoie.